Inverter Installation for home in Blackrock, Dublin
infusing Homes in Dublin, Ireland
FACTS ABOUT THE PROJECT
Evolve Eco Solutions presents another state-of-the-art solar installation featuring 12 roof solar panels! The installation os the Solas 5G 6.0KW 400V Hybrid Inverter which is the latest in three-phase PV power conversion.Featuring a wide operating temperature range, advanced grid-forming technology, and dual MPPT for max efficiency of over 99.8%, it ensures reliable operation of solar arrays. With dynamic overload monitoring, it can handle up to 10x nominal current and offer real-time protection.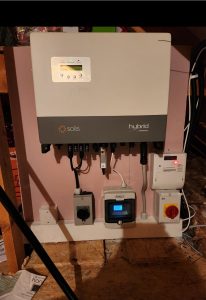 DID YOU KNOW
The 3.6kW seai approved Solar Panel Installation is precisely crafted to meet the energy requirements of Dublin residences. Leveraging cutting-edge solar panel technology, this setup efficiently captures sunlight, generating a substantial 3.6 kilowatts of electricity. Homeowners now have access to a dependable, sustainable energy source, reducing their carbon footprint and encouraging responsible energy usage.
Through the implementation of the 3.6kW seai approved Solar Panel Installation, Dublin households not only experience financial savings but also make a significant contribution to environmental conservation. Embracing renewable energy actively involves residents in the effort to make Ireland a greener and more sustainable country. This initiative stands as an inspiring model for other Dublin homeowners, urging them to adopt clean energy solutions and work towards a brighter and cleaner future for their community.