Inverter Installation for residential home in Dunboyne, Ireland
infusing Homes in Ireland
FACTS ABOUT THE PROJECT
Witness another impeccable solar panel installation by Evolve Eco Solutions, showcasing ten roof panels. As seai approved solar panel installers Ireland, we offered a tailored solar panel quote for this home. Equipped with a high-performance Huawei system and enhanced with bifacial panels, it emerges as an exceptionally efficient solution for residential use. Our work left this homeowner delighted and empowered.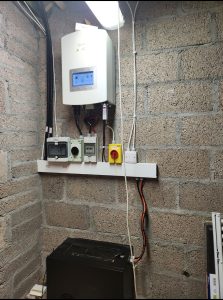 DID YOU KNOW
The SEAI-approved 3.6kW Solar Panel Installation has been meticulously designed to cater to the energy needs of residential solar panels Ireland. We provided a fair solar panel quote Ireland upon request by any household or establishment. Using state-of-the-art solar panel technology, this system efficiently captures sunlight, producing a substantial 3.6 kilowatts of electricity. Residents can now rely on a sustainable energy source, reducing their carbon footprint and promoting responsible energy consumption.
By opting for the 3.6kW PV Panel Installation Ireland, households not only save on costs but also play a significant role in environmental preservation. Embracing renewable energy actively engages residents in the collective effort to make Ireland more eco-friendly and sustainable. This initiative serves as an inspiring example for other Ireland homeowners, encouraging them to embrace clean energy solutions and contribute to a brighter and cleaner future for their community. Why not do it with one of Irelands leading solar panel companies Ireland.